A great choice for both live sound and use in fixed installations like worship facilities, schools and performance spaces. 
The 4.8SP and 3.6SP utilize state of the art DSP technologies, beginning with 24 bit, 48kHz delta-sigma A/D converters with 128x oversampling. Digital processing includes Gain, Parametric EQ, Shelving Filters, Time Delay, Crossover Functions, Compression, Limiting, and Matrix Routing, all taking place in twin 120MHz Motorola DSP56362 high-performance DSP processors. D/A conversion uses 24-bit delta-sigma converters with 128x oversampling. All inputs and outputs are precision balanced and RF protected using XLR connectors.
The 4.8SP has four inputs and eight outputs, while the 3.6SP has three inputs and six outputs. The front panel interface allows quick access to all control parameters by offering dedicated function buttons, eliminating the need for hidden sub-menus. For even faster set-ups and stronger visualization of Input / Output routing, EQ, and Filter curves, a USB port is provided for use with Windows™ Software. Full control by third-party controllers is also available via RS-232.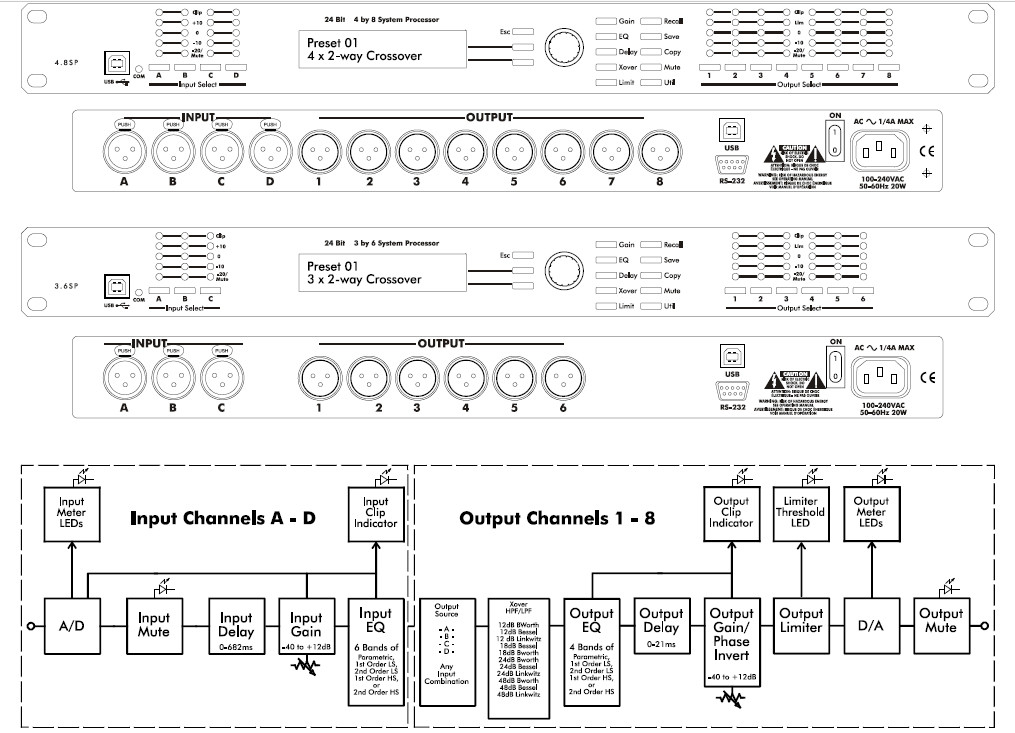 The three inputs on the 3.6SP give you added flexibility, particularly when most other processors only offer two inputs.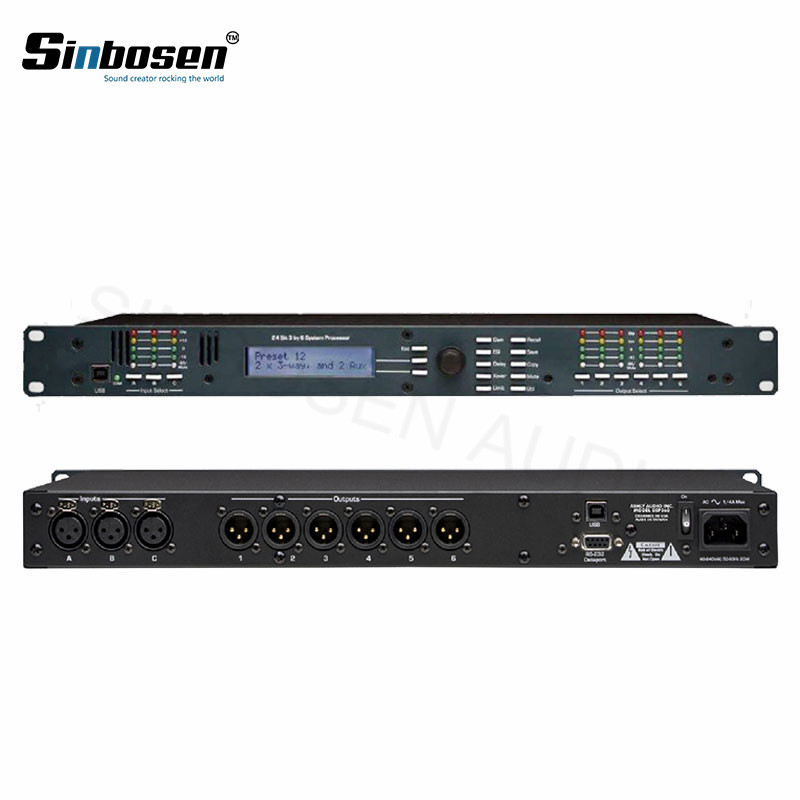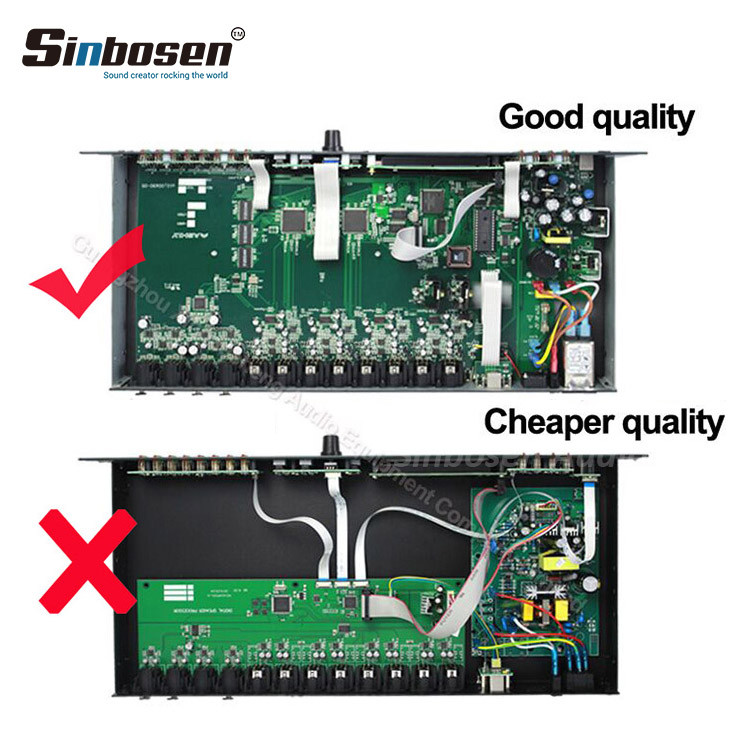 Specifications
Input
Active Balanced, 18k Ohms
Input Level
+20dBu (Max)
Input Gain Range
-40dB—+12dB
Output
Active Balanced, 112 Ohms
Output Level
+20dBu (Max)
Output Gain Range
-40dB-+12dB
Weights, Dimensions & Power
Unit Weight
SP3.6:7lbs (9.54kg) SP4.8:7.3lbs (3.3kg)
Shipping Weight
SP3.6/SP4.8: lOlbs (5kg)
Environmental
40°F-120°F (4°C-49°C) noncondensing
Dimensions
19" L x 1.75" H x 8.5" D (483mm x 89mm x 216mm)
AC Requirements
Universal Power Supply, 100-240VAC, 50/60Hz, 20W
Equalizer
EQ Filter Types
1st or 2nd Order High or Low Shelf, Parametric
Shelving Filter Boost/Cut Range
±15dB
Shelving Filter Frequency Range
Low Shelf: 19.7Hz—2kHz, High Shelf: 3.8kHz-21.9kHz
Parametric Filter Boost/Cut Range
+15dB/-30dB
Parametric Filter Frequency Range
19.7Hz-21.9kHz, 1/24 Octave Steps
Parametric Filter Bandwidth
Four Octaves to 1/64 Octave
Delay
Input/Output Delay
0-682ms
Crossover
HPF/LPF Frequency Range
19.7Hz—21.9kHz, Off
Available Filter Types
12dB/0ct Butterworth ;12dB/0ct Bessel 
12dB/0ct linkwitz-Riley ;18dB/0ct Bessel 
18dB/0ct Linkwitz-Riley ;24dB/Oct Butterworth 
24dB/Oct Bessel ;24dB/Oct Linkwitz-Riley 
48dB/Oct Butterworth ;48dB/Oct Bessel 
48dB/Oct Linkwitz-Riley
Limiter
Threshold Range
-20dBu-+20dBu
Ratio Range
1.2:1 to °°:1
Attack Time Range
0.5ms-50ms
Release Time Range
10ms-lSec
Frequency Response
20Hz—20kHz, ±0.25dB
THD
<0.01% @ 1kHz, +20dBu
Dynamic Range
>110dB, 20Hz-20kHz unweighted
Audio Sampling Rate
48kHz
Propagation Delay
1.46ms
Signal LEDs (dBu or VU)
Inputs
-20/Mute,-10,0,+10, Clip
Outputs
-20/Mute, -10,0, Limit Threshold, Clip
Features

✔ Front Panel Parameter Control
✔ Single rack space with XLR audio connections