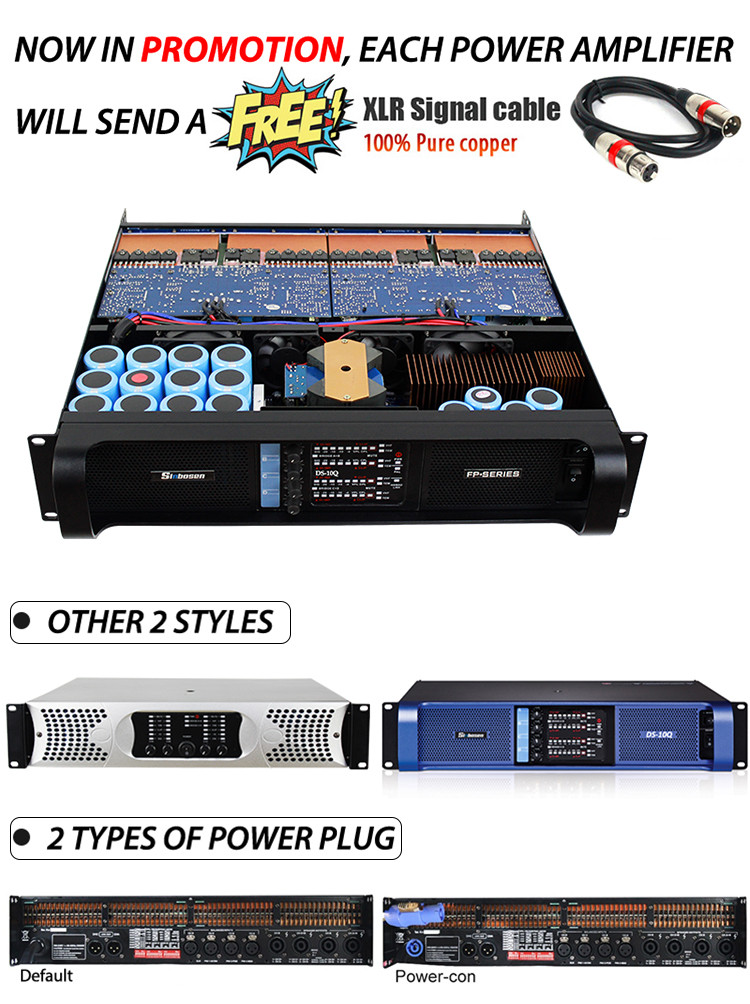 FP10000Q Technical specification overview: 
✔ Four-channel flexibility 
✔ Original sound quality – impeccable sonic performance standards with durability and greater efficiency
✔ Patented Class TD amplifier topology – Road-proven output stage delivers Class B audio quality with Class D efficiency 
✔ Regulated Switch Mode Power Supply (R.SMPS) – Output power remains constant even with significant drops in the mains voltage
✔ Efficient cooling system - Unique, lightweight Intercooler copper cooling system dissipates more heat to allow extended peak output
✔ Adjustable parameters - Selectable Gain, scalable Voltage Peak Limiter (VPL), and bridge-mode operation allow custom configuration for any application
✔ Comprehensive protection and warning – Excessive output current, DC, high temperature, very high frequency (VHF), short circuit, open load, mains fuse protection, and soft start
✔ XLR input connectors
✔ Heavy-duty binding post or Speakon output connectors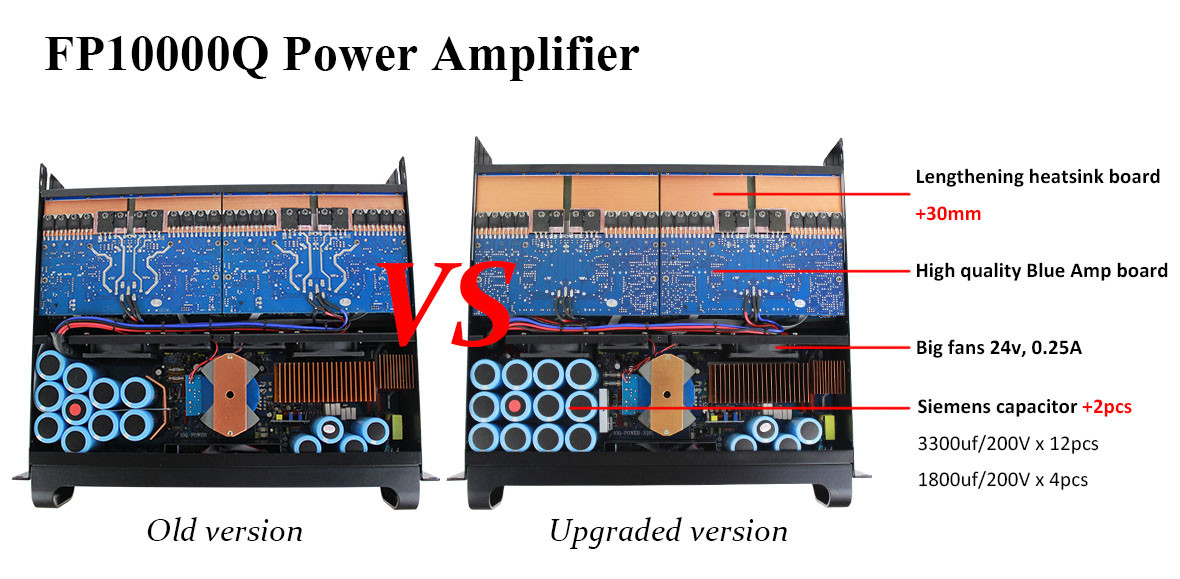 Newly upgraded version FP10000Q amplifier: more powerful than the old version

1. Longer heatsink ➕30mm, so now 94mm!
2. Use original "Siemens" capacitors.
- 12pcs 3300uf/200V (➕2 pcs more than the old version)
- 4pcs 1800uf/200V

3. High-quality Blue amplifier board.
4. Use original "Sanken" and "Fairchild" transistor.
5. Use high-quality fans from Taiwan.
6. Use Switzerland XLR Brand -- Neutrik.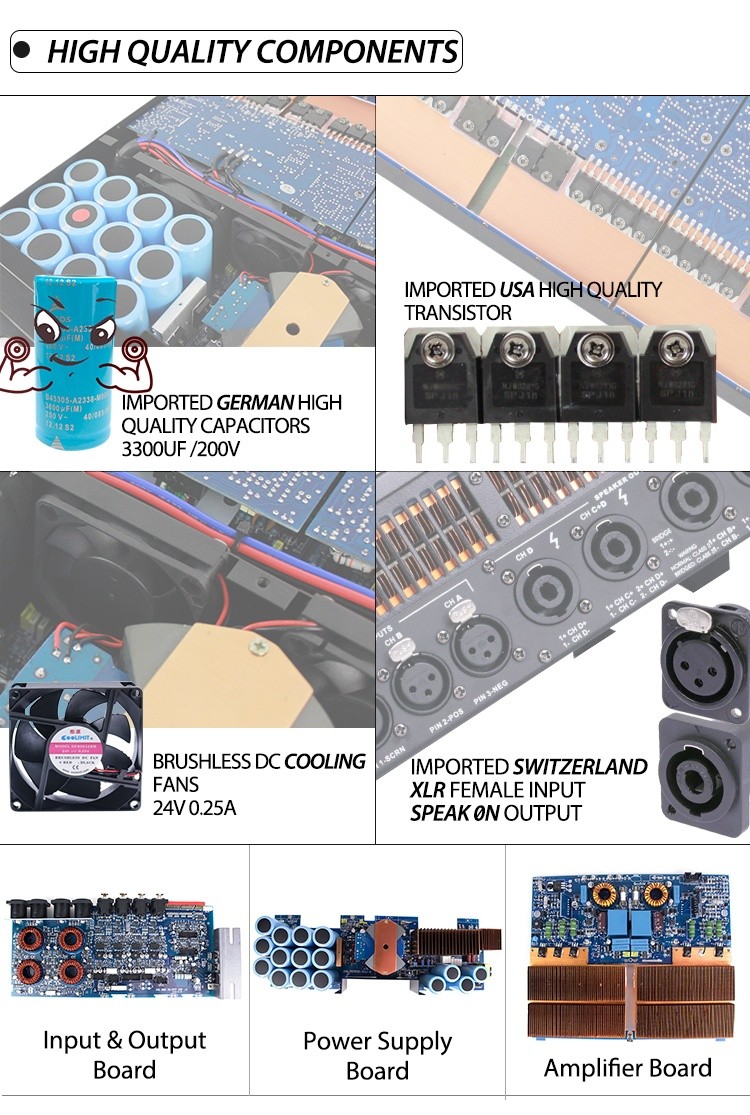 Sinbosen FP10000Q SPECIFICATIONS

8 ohms Stereo Power: 4x1350W
4 ohms Stereo Power: 4x2100W
8 ohms Bridged Power: 2x4200W
4 ohms Bridged Power: 2x5000W
Frequency Response(+0/-0.3dB,1W/8Ω): 20 Hz - 34 kHz
THD 20 Hz - 20 kHz for 1 W: <0.1%
Signal-to-Noise Ratio: >112 dBA
Channel separation (Crosstalk) at 1 kHz: >70 dB
Input Connectors (per channel): 3-pin XLR, electronically balanced
Output Connectors (per channel): Binding Posts 2-pole
TourClass Protection: ACL,IGM, AutoRamp, short circuit, DC voltage, turn-on/off transient, current inrush,sub/ultrasonic input
Operating voltage, 230 V / 115 V nominal: 130-265 V / 65-135V selectable
Voltage Gain(dB): 23, 26, 29, 32, 35, 38, 41, 44 dB selectable
Input impedance: 20 kOhm
Level adjustment (per ch.): Front-panel potentiometer, 31 position detented from -inf to 0 dB
Dimensions (W*H*L): 88mmX483mm×396mm
Packing dimension (W*H*L): 180mmX560mm×500mm
Net weight: 15.5kg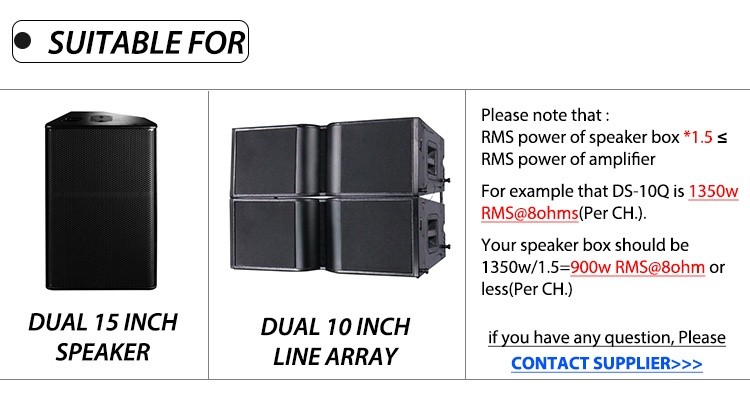 Client Feedback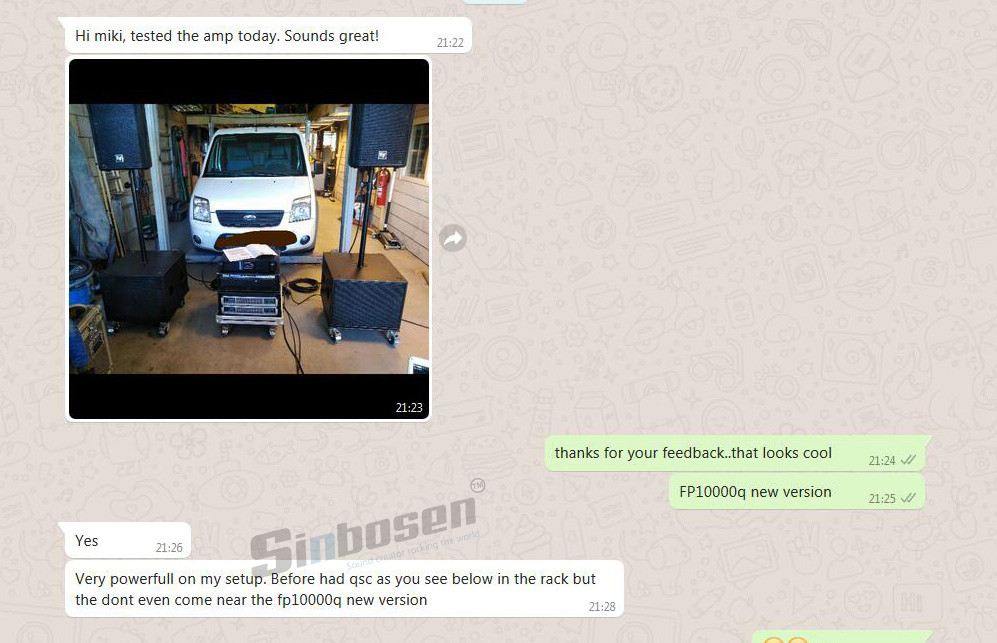 Must know before buying:
Full-range speaker [line array speaker, professional speaker]: the power of the power amplifier should be greater than 1.5 times or more;
Subwoofer speaker: The power of the amplifier should be more than 2 times or more, because the current of the low frequency speaker is larger than that of the full frequency speaker!