The DSP10000Q amplifier was used for Motor union event in Korea
Share
publisher

Dan
Issue Time

2018-06-20
Summary
Without the Howling event once the event is going well.
The installation took almost 30 minutes and did not have time to test, but the event was successful.
Our Korean partner attended the Music Attack band of wind instruments, which is the training and events of Motor union.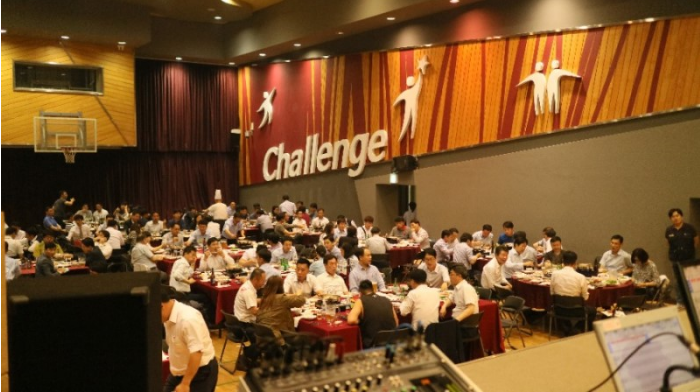 He said, "Without the howling event and the event is going well. The installation took almost 30 minutes and we did not have time to test, but the event was successful."It was so hurried without any test time, which proves that our products are reliable and Sinbosen Audio never let you down. Finally, the show was amazing and got applause from audiences.

What Audio machine in this Sound System?

-- 1 unit DSP10000Q & 1 unit K-1200 (from Sinbosen)
-- 2 unit JBL SR4733A
-- 1 Yamaha 16-channel mixer

-- 3 pieces SM58, 2 pieces SM58S (from Sinbosen)
-- 1 unit Laptops

Why our client choose the DSP10000Q instead of FP10000Q?

-- Different people, different preference.
Our Korea client prefers to make the amplifier with DSP function in one same machine. So they will no need to spare more time to install the extra processor. It's more popular to make audio products lighter, more simple to operate. So he like our Digital amplifier K-1200 too.
-- Save their time and save the money too.
The DSP amplifier is very convenient to operate. It has full function of DSP function. So it can replace the complicated audio processor (Like DBX260 or Ashly 4.8SP processor)
✔ Sinbosen DSP10000Q Amplifier:
Embedded ARM processor operating system with 4" touchscreen makes the operation more easily. Free drive USB and RS485 can connect to the PC, meanwhile RS485 for distance control as long as 1500 meters supports machines' cascade. There are 8 bands PEQ, X Over, Delay, Limiter, Gain, Polarity for every output channel, limiting and adjusting the output level to protect the output equipment.

✔ Sinbosen K-1200 Digital Amplifier:
Cost-effective, stable, and fully protected amplifiers. They are popular among users at home and abroad because of their environmental protection, energy saving, small size and utilization rate of more than 97%.

✔ Sinbosen SM-58 & SM-58S Microphone:
It is ideal for professional singers live performances, to highlight the vocals and vocals full of clear singing.
He said, "So cool your company products! And all are sold"
We appreciate his kind support and confidence in our company and products. Sinbosen Audio always committed to bring a perfect experience for all clients.