QLXD4: Deeply Liked By Customers
Share
Issue Time

2021-10-14
Summary
Recently we received feedback from our old customers, who said that he likes the Sinbosen QLXD4 wireless microphone very much and will repurchase it next time!
Music, The Soul Of Man, Only Those Who Understand Music Can Understand Life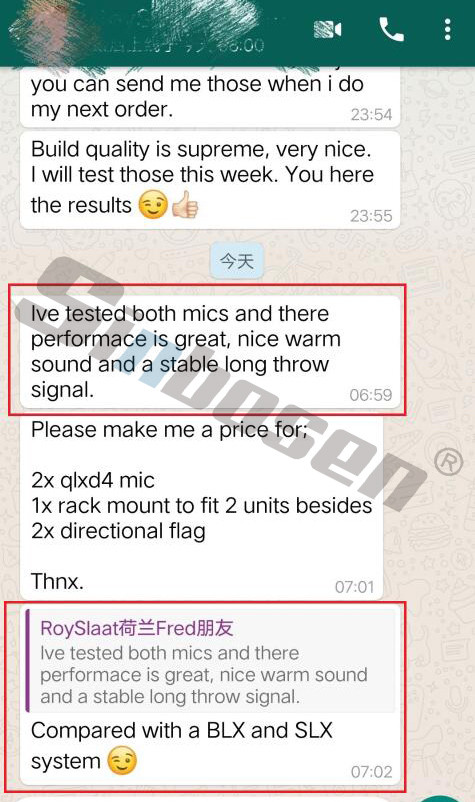 Today we received feedback from a regular customer, he said:I've tested both mics and their performance is great, nice warm sound and a stable long throw signal.The customer bought the
SKM9000
wireless microphone before. This time he suddenly wanted to change the model of the microphone, so we recommended the
QLXD4
wireless microphone to him. After receiving the microphone, the customer tested it and found that his sound quality is the same as that of the SKM9000. Just as good! He is very satisfied with our service this time and said that he will continue to buy our products next time!
Sinbosen is honored to be trusted and praised by customers. We will continue to make products and bring customers a perfect shopping experience!
QLXD4 is a wireless microphone like SKM9000, which is popular among customers, and each has its own advantages. SKM9000 has a variety of frequencies to choose from, with four antennas, the problem of poor signal does not exist in it! QLXD4 also has a variety of frequencies to choose from, but it has two antennas, the price is cheaper than SKM9000, and the price is high!
Microphone Type: Dynamic
Polar Pattern: Cardioid
Form Factor: Handheld
Frequency: 626-668 mhz,780-820 mhz
Transmitting distance:100 meters

Because QLXD4 includes professional-grade rack hardware, some novice customers may not know how to install it. Next, let's watch a QLXD4 bracket installation video, hoping to help everyone!