However, we learn that some customers like their sound system to be simple, lightweight and easy to operate. They may don't used for big stage. So, you can only need one full set
Active Line Array Speaker
to solve everything.
Users don't have to worry about matching the amplifier and speakers.
Just only turn on power and input signal, then they can work. And you don't buy the
Audio processor
, because you can operate our DSP processor in the PC.
For example, you want to hold a small party, wedding, conference, etc., for about 200 people, you can use the following products: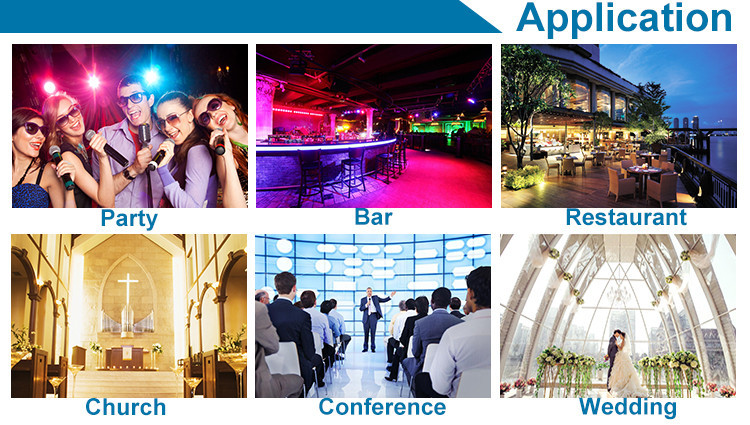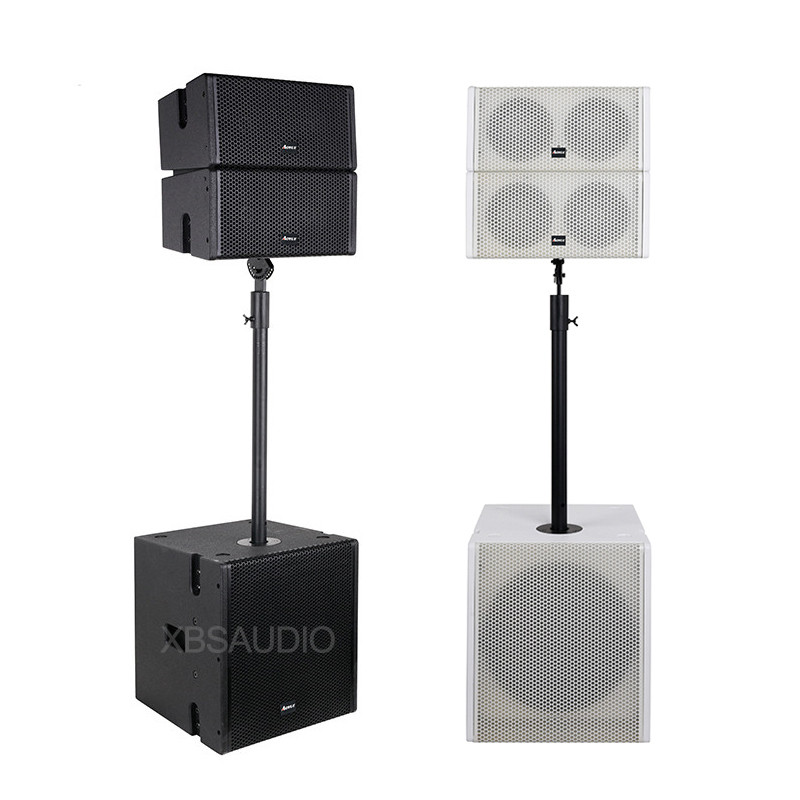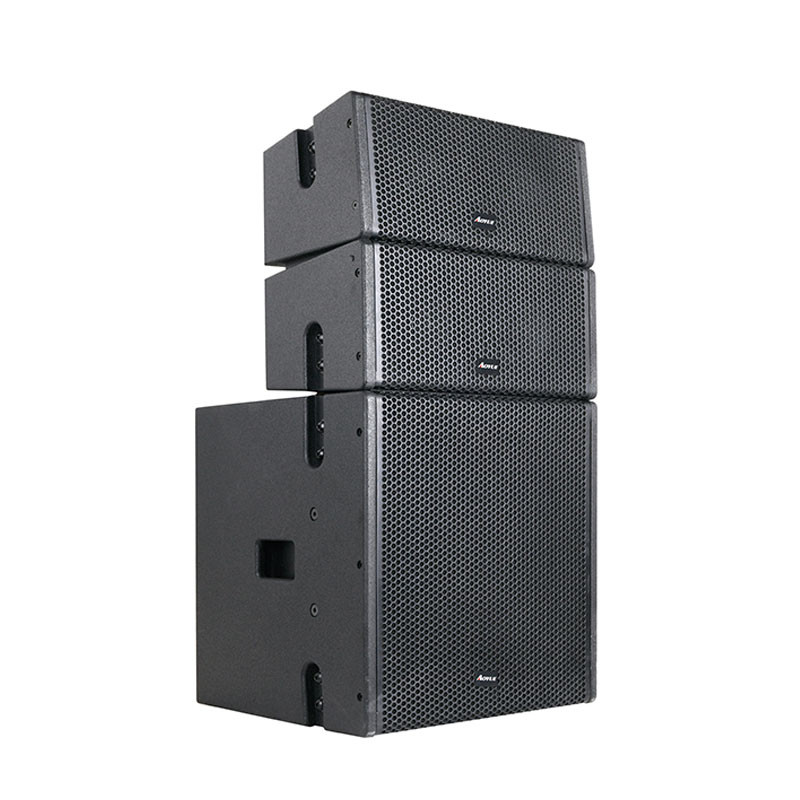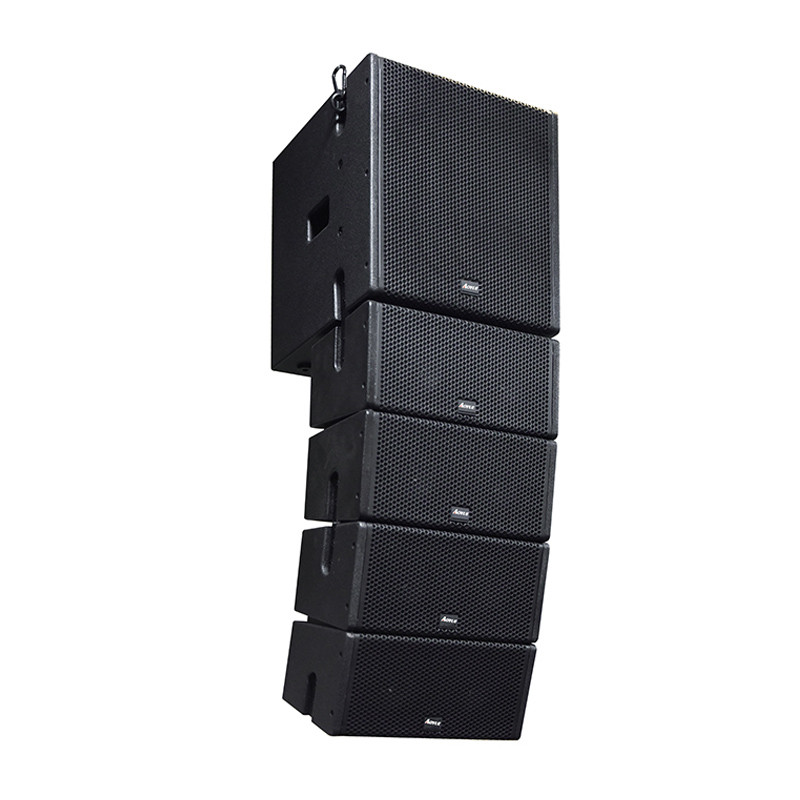 For this mini line array speaker, you can make it stand or hang it up, like the above pictures show: ( Two color: Black / white )
♦ 4pcs Two ways line array box
♦ 2pcs Hanging parts and 2pcs line ( including 4pcs caron head)
What are their advantages?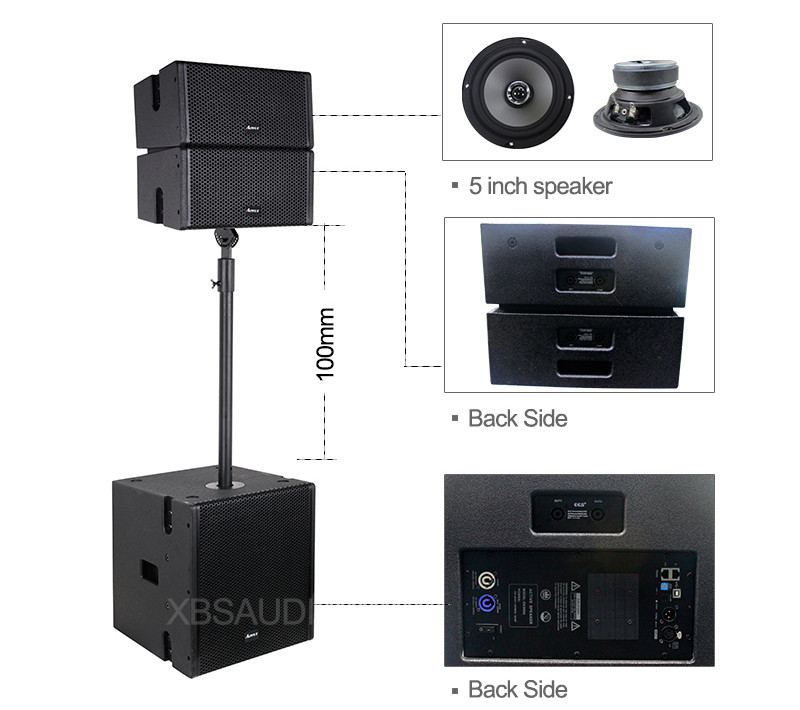 Speaker:
Double 5 inch coaxial array
The music reproduced by the coaxial speaker has accurate pan and video positioning, high music resolution, and large sound field performance. Bass realistic and cohesive, with high energy density and good transient energy, can be put into full play; the midrange voice is full and sweet; the treble is crystal clear, delicate and full of penetrating power.
◆ Components: 2×5"Low frequency +2*20"high frequency
◆Frequency response: 100Hz to 20KHz (±1dB)
◆ Impedance: 8 Ohm
◆ Rated power: 120W/8Ω
◆ Distortion: <0.05%
◆ Rated peak SPL: 94db
◆ Other: 15mm Birch,Environmental Harden Black Paint, the steel mesh use a low carbon content of 1.2mm
Subwoofer: 12 inch
◆12 inch Unit combination: 1 x 12" Low
◆ Frequency response: 35Hz to 350Hz (±1dB)
◆ Impedance: 6 Ohm
◆ Rated power: 400W/6Ω
◆ Distortion: <0.05%
◆ Rated sound pressure level: 94db
Assembly:
◆
2pcs Hanging parts and 2pcs line ( including 4pcs caron head)