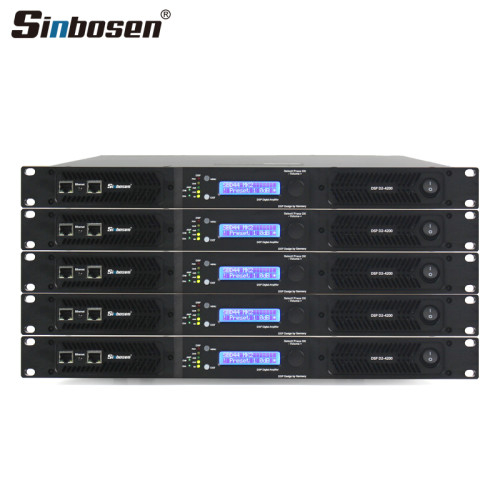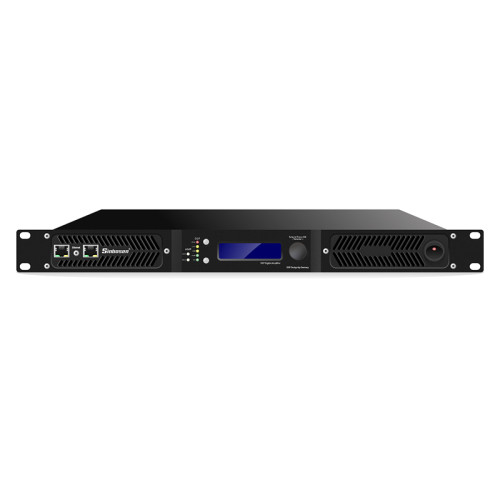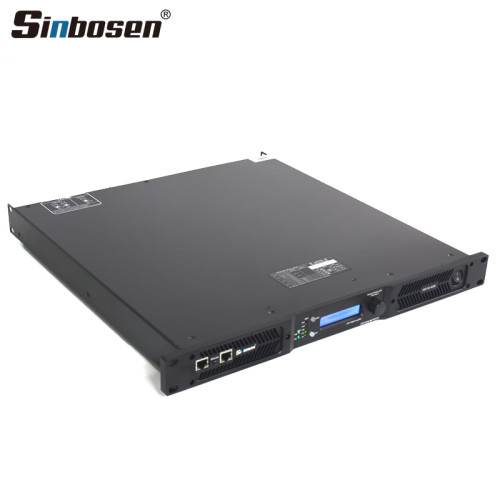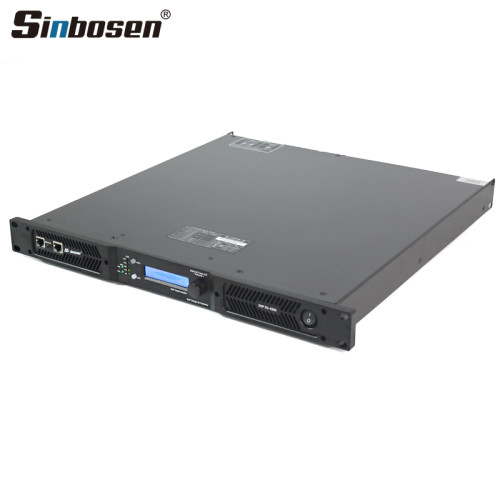 D2-4200 DSP 4200W @8ohms High Power Subwoofer Amplifier
Item specifics
Channel

2 Channel
Feature

1U/Digital Amp/2 Ohms Stable
8Ω Stereo Power (RMS)

4,200W X 2CH
4Ω Stereo Power (RMS)

7,800W X 2CH
2Ω Stereo Power (RMS)

8,500W X 2CH
Warranty

3 Years
Description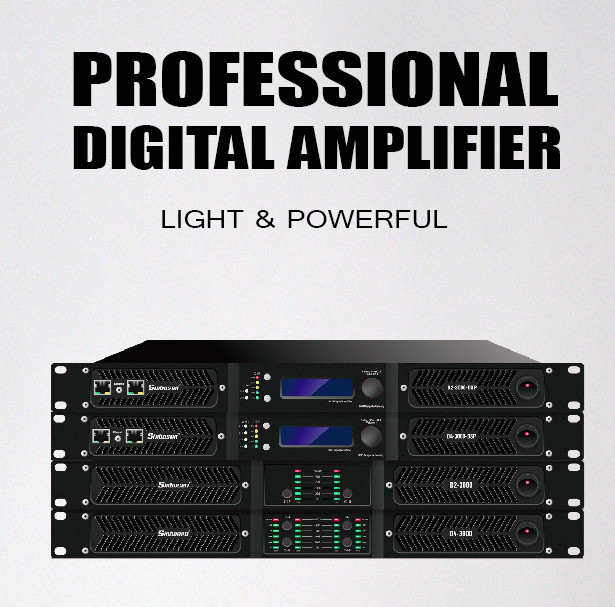 ●2 Channel Class D DSP Digital power amplifier
●Mini 1U size,convenient for Touring Applications
●Suit for Stage Power Subwoofer speaker;
●Work Under 2Ω steadily !
●Precise and Reasonable circuit structure

●
DSP processor module and operating software are designed and produced in Germany, and Dante function is optional
●
Using Gan technology, high efficiency, low heat, reliable and durable, strong resistance to wear, clean tone, small distortion
●Bring supper reliable sound
●Bridge-mode operation
●Original Neutrik XLR*/Speakon connectors
●Temperature protection;Over current protection;Short circuit protection built-in
D SERIES HIGH POWER DIGITAL AMPLIFIER (Choose with or without DSP)

Model

D2-3000

D2-3500

D2-4200

D4-2000

D4-3000

EIAJ Test Standard,1 kHz, 1% THD

8Ω/Stereo

2 x 3000W

2 x 3500W

2 x 4200W

4 x 2000W

4 x 3000W

4Ω/Stereo

2 x 5000W

2 x 6300W

2 x 7800W

4 x 3400W

4 x 5000W

2Ω/Stereo

2 x 7140W

2 x 7400W

2 x 8500W

4 x 4760W

4 x 6500W

8Ω/Bridge

1 x 10200W

1 x 12500W

1 x 15600W

2 x 6800W

2 x 10000W

4Ω/Bridge

1 x 14280W

1 x 14800W

1 x 17000W

2 x 9520W

2 x 13000W

Alternating Current Power Supply

Power

PFC Power

Rated power demand

100-240V±10%, 50/60Hz

Operation voltage

90V-270V

Power correction factor cos(φ)

>0.95 @ >500W

Standby

47W and 0.8A

Gain,Sensitivity

32dB,35dB,38dB,41dB

Maximum Output Voltage/Current

185V/85A (370V in the BRIDGE MODE)

Power Comsumption

230V (115V in the BRIDGE MODE)

Temperature

Environment temperature

0°-45C / 32′-113*F

Cooling system

Tunnel through cooing system

Performance

Frequency Response

20Hz - 20kHz (1W@8Ω,+05 dB)

Signal-to-Noise Ratio

>110 dBA (20 Hz- 20 kHz A weighted)

Crosstalk

>66 dB @ 1 kHz

Input Impedance

10 kΩ balanced

Total Harmonic Distortion(THD)

<0.5% from 1 W to full power (Typitcal value<0.05%)

Intermodulation Distortion(IMD)

<0.5% from 1 W to full power (Typical value< 0.05%)

Damping Factor (8 ohms)

>5000 @ 20-200 Hz

Slew Rate

50V/μs @ 8Ω

Front Panel

Indicator LED/per channel

One PCS Green LED: the input signal of XLR ≥ -40dB;
Four pieces Green LED:
display the output signal(-20dB,-10dB,-5dB,-3dB)of SPEAKON
1 piece dual LED(Yellow and Red):
Protective state/Clip stste/Over heat/Over load

Power Switch

Press "I"-on; Press "O"-off.

Dust-proof

Two pieces dust-proof cotton,
it can take off to clean from the bottom of front pannel

Application

Signal in-connection

4 Channel: One balanced XLR(with lock)female per channel;
2 Channel One balanced XLR(with lock)female
and one balanced XLR male per channel.

Signal out-connection

One SPEAKON per channel connect to loudspeakers

Power cord

Fited to the device, and the CSA(cross sectional area)of the cord is 3 x 2.5mm²,
and the card is 1.5 meters long.

Multiple-Functions Switch

Two Sensitivity Switches. One Mode Switch and one Clip Switch.

Structure(The size and weight depend on different series and shipping demand )

Dimensions

482 x 44 x 380mm³/482 x 44 x 470 mm³

Net weight

10Kg/12kg

Packing size

580 x 580 x 119mm³/615 x 615 x 119 mm³

Shipping weight

12Kg/14Kg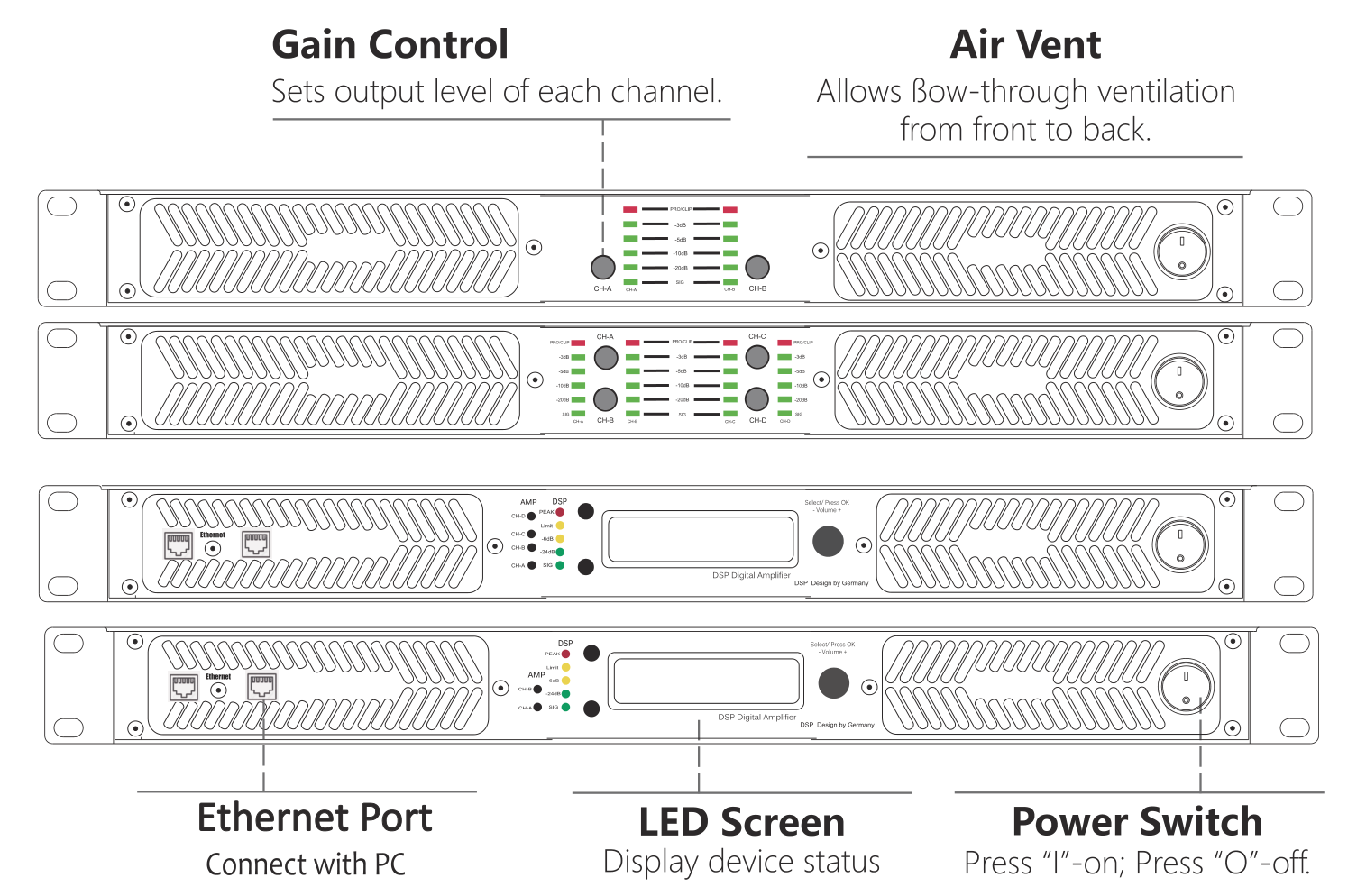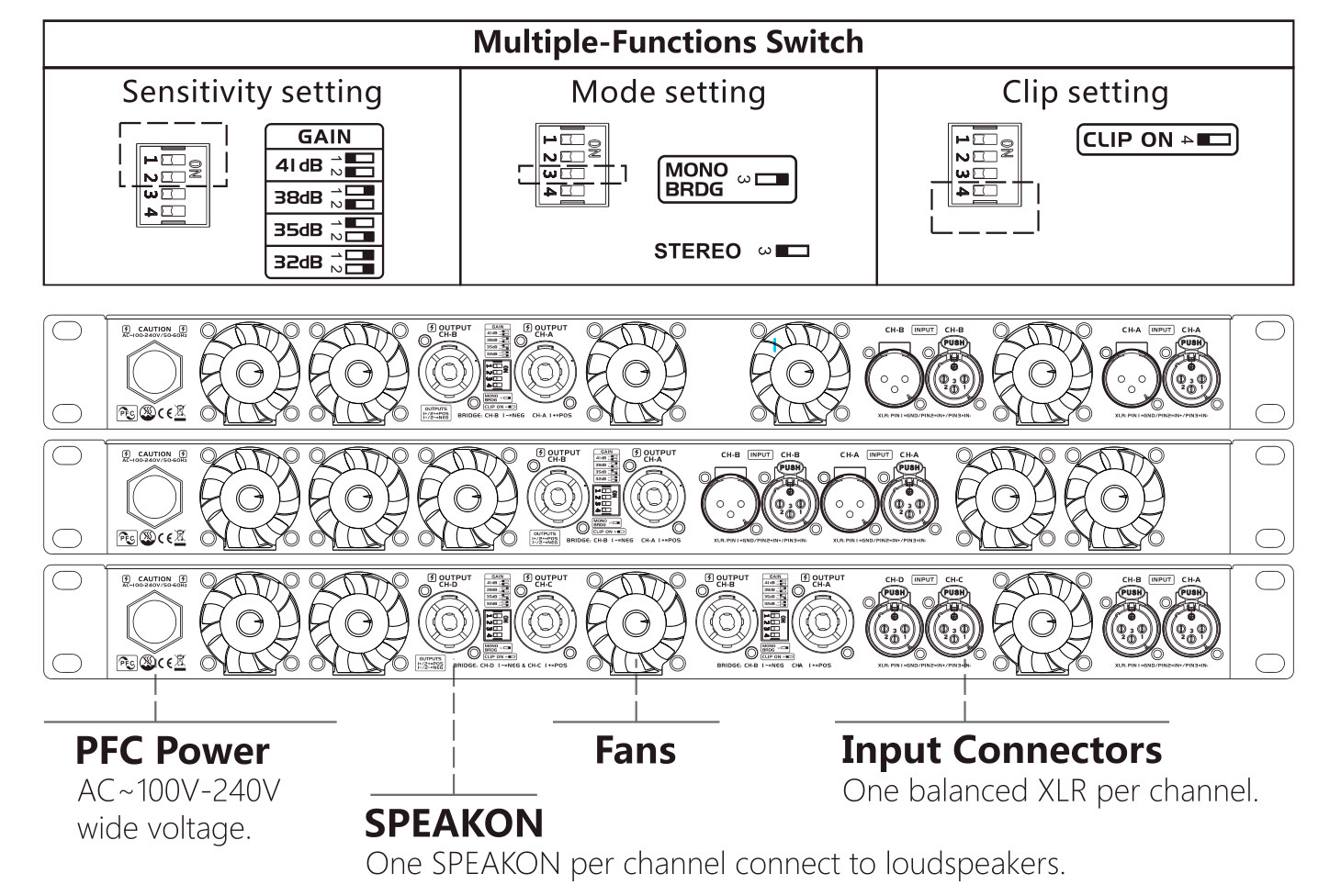 Dimensions and Cooling system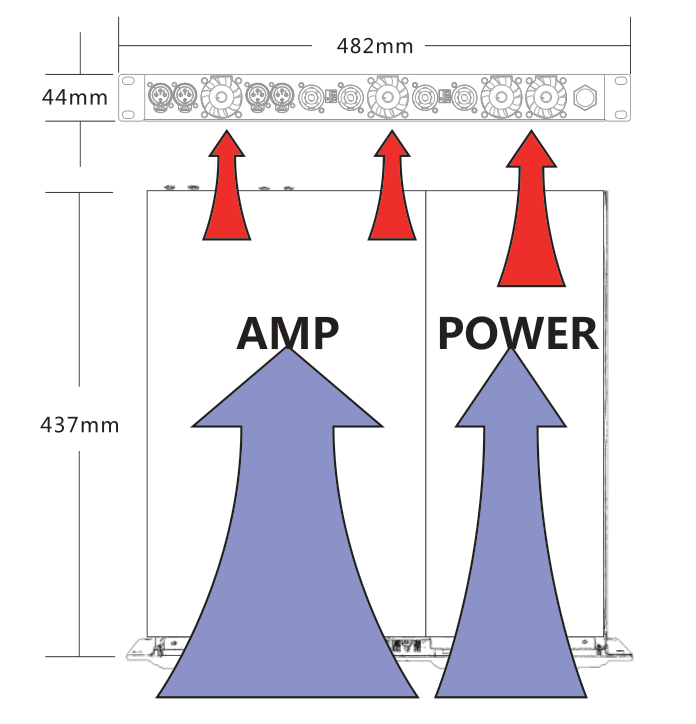 NOTE:
The size is 437mm inside of the device(without the cover plate and front panel).
The size is
around 472mm
of the complete device,but a little bit different size
in the different front
panel.Some series with different size
that had not shown,
please learn it in the parameter.
Tunnel through cooling system
Cold air comes in from the front panel of the equipment, forms a duct through
the radiator
to take the heat away
and out from the rear panel of the equipment.
The new D series digital amplifier also has the option to add DSP function, Our D series DSP amplifier used ALLDSP system from Gemany. It is suit for Windows,Mac and ios system. The application for iPad or iPhone can be downloaded and installed from the Apple Store .
For the Remote Operation Software (Windows and Mac) and Manual, Please

check Download link or contact us!


Note that for a Windows computer, there are separate applications for Windows

32 bit and 64 bit.



Attention: You cannot connect the unit to the network through the USB or Ethernet

at the same time. You can only control the unit from one platform at the same time

if you switch from one platform to another, you MUST shut down the control software at the previous platform first.



Local connectivity of the device to the control computer from a front-panel USB

connector is also possible to download initial settings or as a fallback in case of network failure.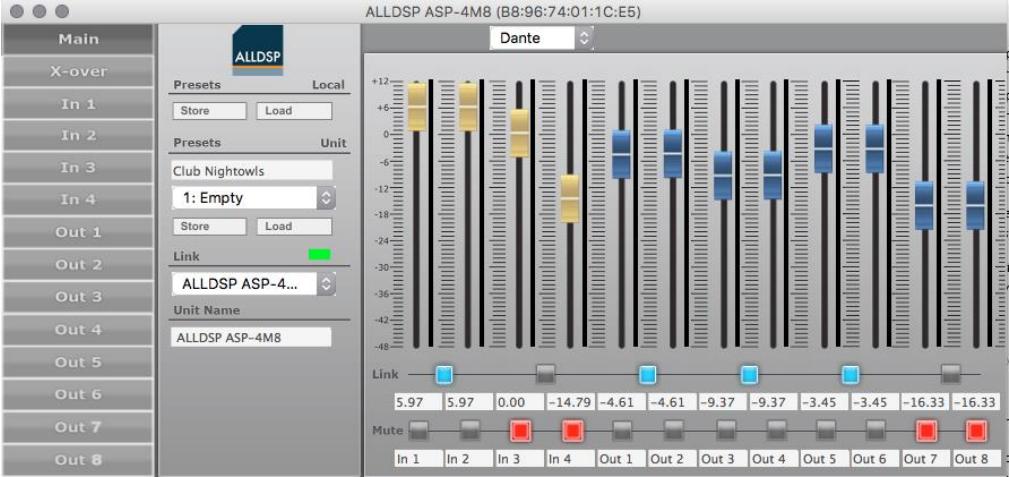 Unit window shows the unit window from which all setup screens and options can be reached.Clicking the exit cross will close the software but leave the network Control program running.
Input Channel Settings Screen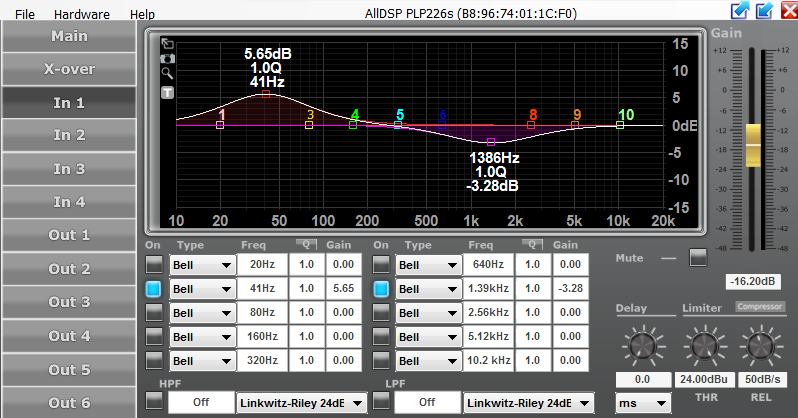 Clicking on an Input channel number in the Unit window will bring up the input channel settings screen see Figure. In this screen, individual input channels can be equalized and/or filtered.
Settings screen:
●
Filtering and EQ
●
Input channel transfer function curve
●
Screen expansion and legends
●
Input Gain, Mute
●
Delay, limiter, compressor
●
RMS compressor

Screen expansion and legends
On the left-hand side of the graphical screen are four icons to help precise settings. The top Arrow icon expands the graphical screen to the size of the window.Clicking this icon again from the expanded screen expands it to the full display size. In either of the expanded settings, clicking the X-icon at the top left will collapse the graphical area to the default setting.
The T(ext) icon will place the frequency, Q and gain values of each EQ and filter setting in the graphical screen.
For very accurate settings of EQ or filtering you can click the Looking Glass icon.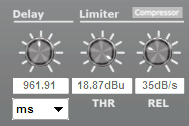 Delay, limiter, compressor
Settings for channel delay, limiter (-48 to +24 dBu) and Limiter release rate (10 to 100 dB/s) settings.Plus a button to enter the rms compressor menus.Channel delay can be set in a variety of distance or time units from the drop-down list.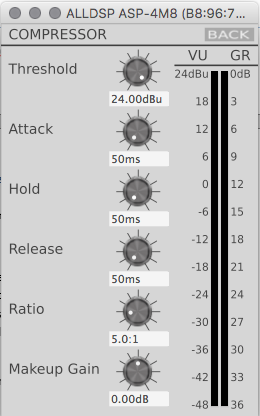 Compressor settings window

Clicking on the compressor button brings up the compressor menu.
In the compressor menu you can set the parameters of the rms compressor.You can set the threshold, attack, hold, and release time, the compression ratio and the make-up gain.Next to the controls is a VU meter that also displays the gain reduction (GR). Be sure to use the 'Back' button to return to the output menu.
Crossover Settings Window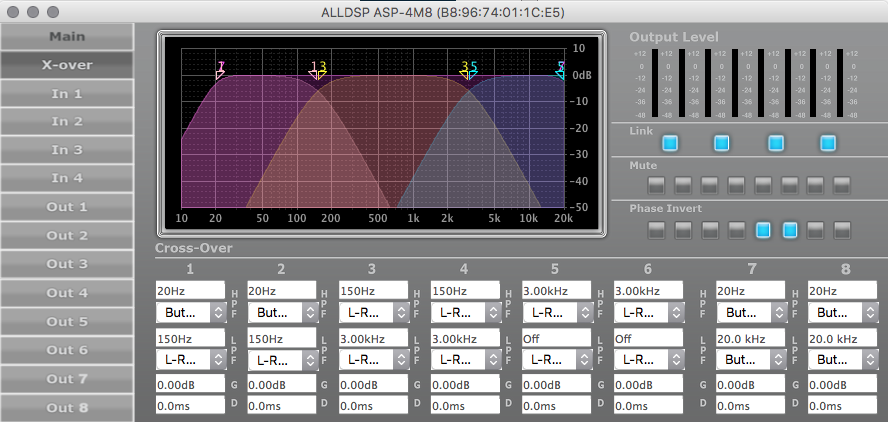 When you click X-over in the left unit window function list, most of the screen is dedicated to the controls and indicators for setting up the cross over filters as shown in Figure.
Settings screen:

●
Graphical control
●
Filter type
●
Gain
●
Delay
●
Link
●
Mute, Phase Invert
Output Channel Settings Screen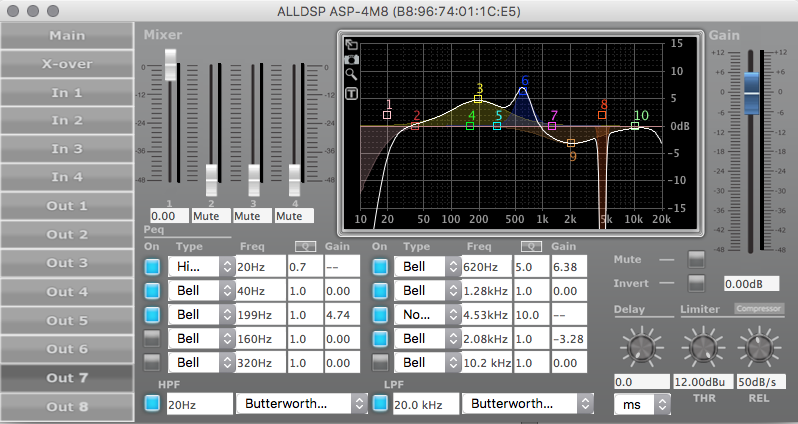 As shown in the picture above, faders are shown for each of the input channels. This will allow mixing each of the input signals to each individual Output channel. Even if Input channels are set to Linked in the Unit window, it is still possible here to mix individual Input channels to an Output channel in any desired ratio. Level setting are shown numerically below each fader. The available range is from -48 dB to 0 dB. As in other screen, double clicking a fader resets it to default.

A complete control screen is available for each Output channel. The graphical area reflects the Crossover settings for the channel in addition to any equalization settings set up in this screen, and is very similar to the available settings in the individual Input channel screens.The status of an element is always reflected in the blue on/off button next to each element.
●Relationship between Input- and Output settings
●Output filtering and EQ
●Output channel transfer curve
●Delay, limiter, compressor
●RMS compressor
●Change / adjusting Values

More Dsp Details please download: