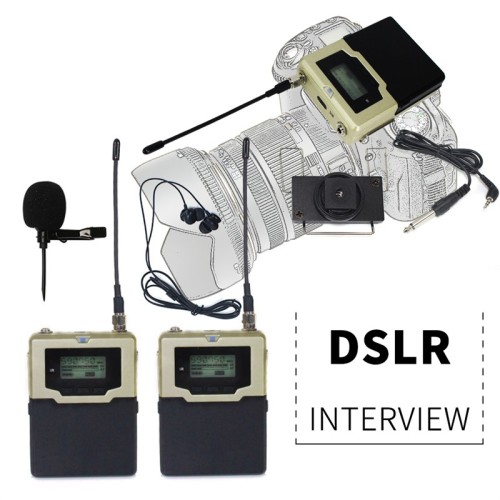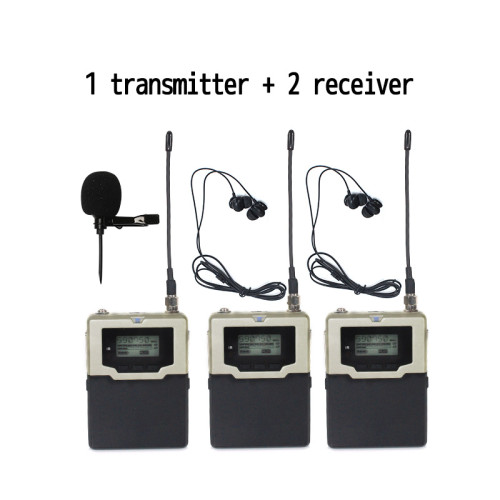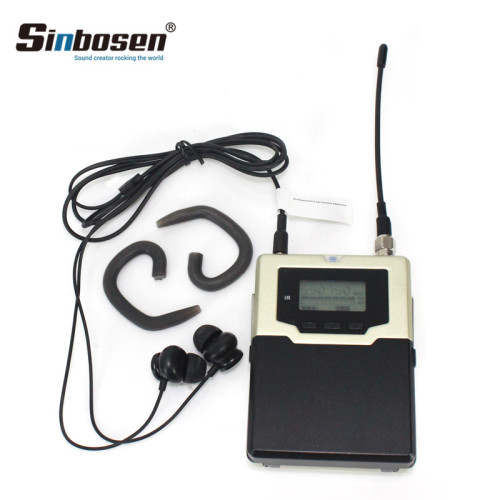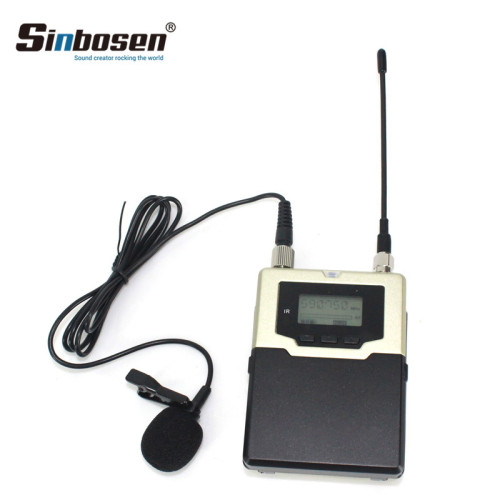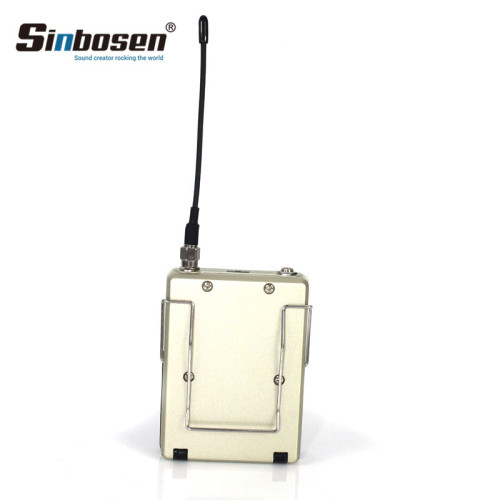 Wireless bodypack interview microphone for mobile dslr camera
Item specifics
Frequency Range

UHF590-614.75MHz
Modulation Mode

FM(PLL)
Frequency interval

32MHz
Receiving method

single tuning
Signal to noise ratio

> 94dB (1KHz-A)
Description
The system can be used with small cameras or Interchangeable lens digital cameras.
ENG (electronic nows interview).
EFP (electronic live production).
sports events, micro films, wedding and other uses.
RF stability: ± 0.005%
Bandwidth: UHF590-614.75MHz
Frequency interval: 32MHz
Mode of operation: manual adjustment
Receiving method: single tuning
Sensitivity: When the offset is equal to 25KHz, when inputting 7dBuV, S / N> 78dB
Maximum deviation: ± 48KHz
Signal to noise ratio:> 94dB (1KHz-A)
Harmonic distortion: <3% @ 1KHz
Comprehensive frequency response: 80Hz ~ 15KHz ± 3dB
Output power (32Ω): 2 × 50mW @ 1KHz
Headphone load impedance: ≥16Ω
Output socket: 3.5mmφ stereo headphone socket
Power supply: two No. 3 (AA) batteries
Current consumption: 3V / 120mA
1. This super-excellent receiver is specially designed for traveling, visiting, simultaneous interpretation, audio transmission, and stage portable monitoring.
2. UHF transmission can ensure stable work in the use occasion, and bring more relaxed feeling to the transmitter and receiver.
3. The operation of the receiver is convenient and simple. The volume can be easily controlled using a switch system, and the channel can be controlled by pressing the Up / Down button.
4. The backlit display can clearly show the channel, and the "Lock" lock function can prevent the channel from accidentally changing.
5. At UHF590-614.75MHz
The first four channels are received at UHF590-614.75MHz in the ISM band.
6. Frequency adjustment function provides users with special frequency settings.
7. Frequency lock function can avoid accidental frequency switching.
8. Battery level display.
9. The limiter function can limit the maximum volume of the headset.
10. Squelch circuit: turn off automatically when the signal is too weak to only receive noise.
11. Completely reliable signal transmission.
12. Metal shell with texture.
13. Use No. 5 battery for power supply.
14. The white backlit display can clearly show the channel (turn on the backlight when pressing any button)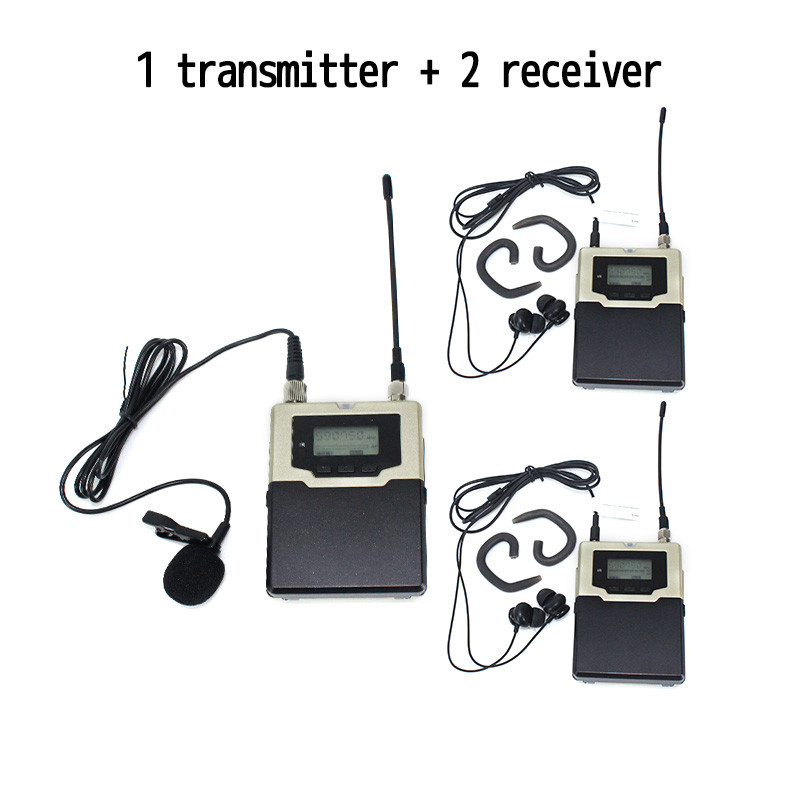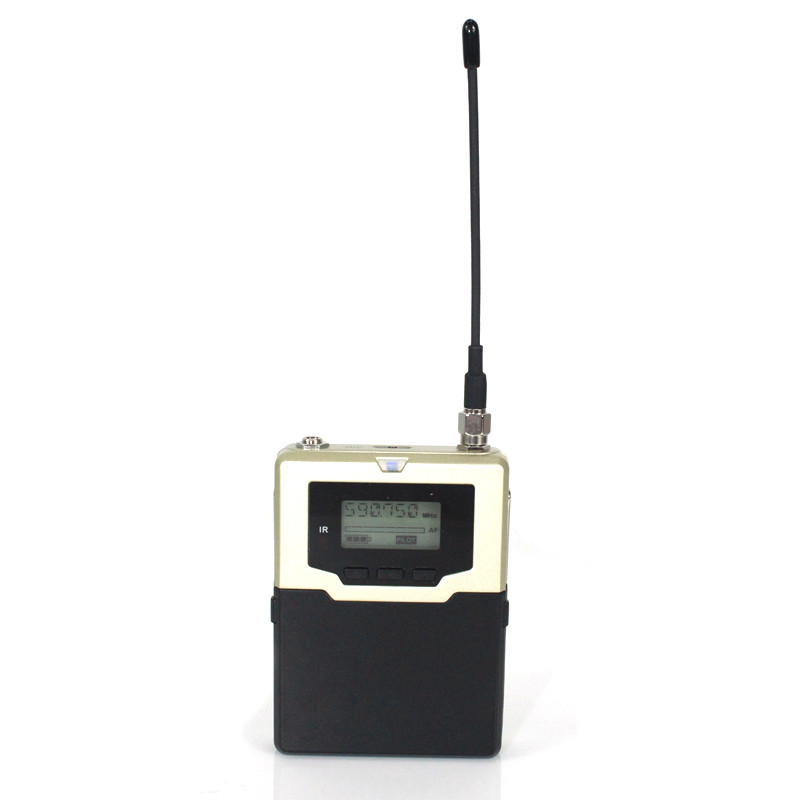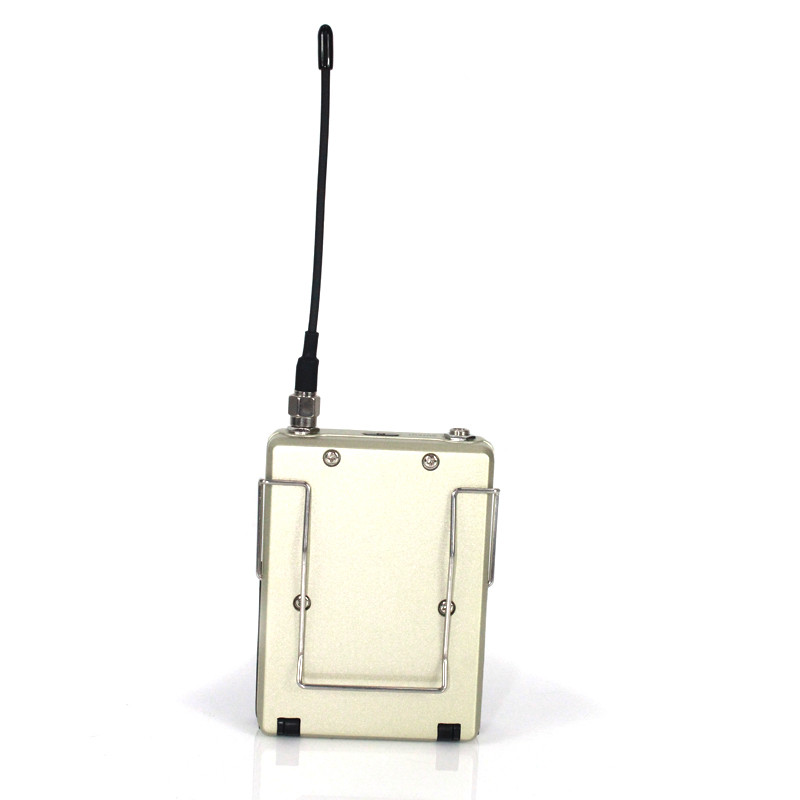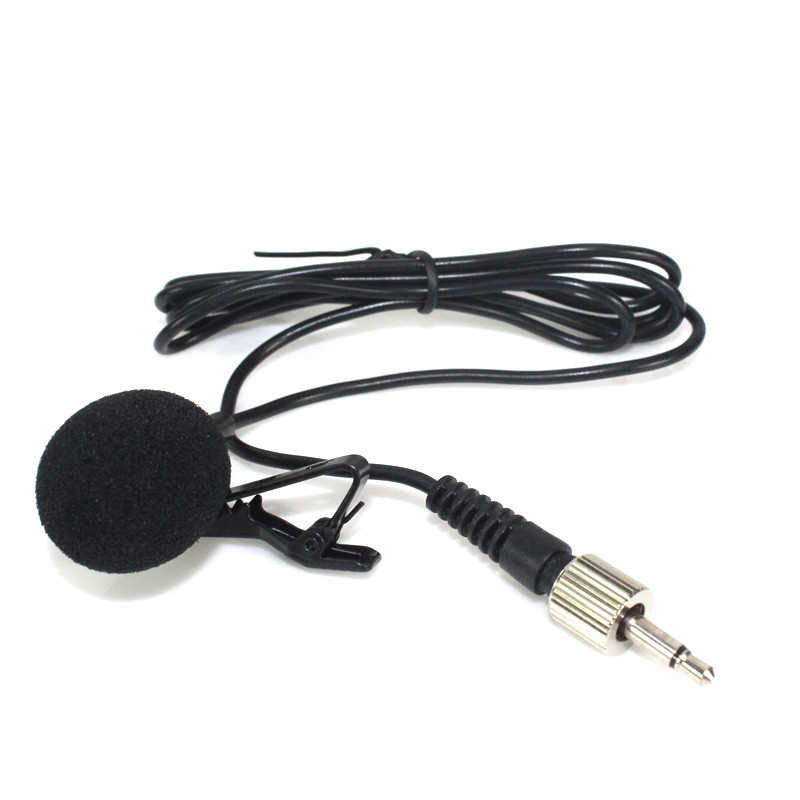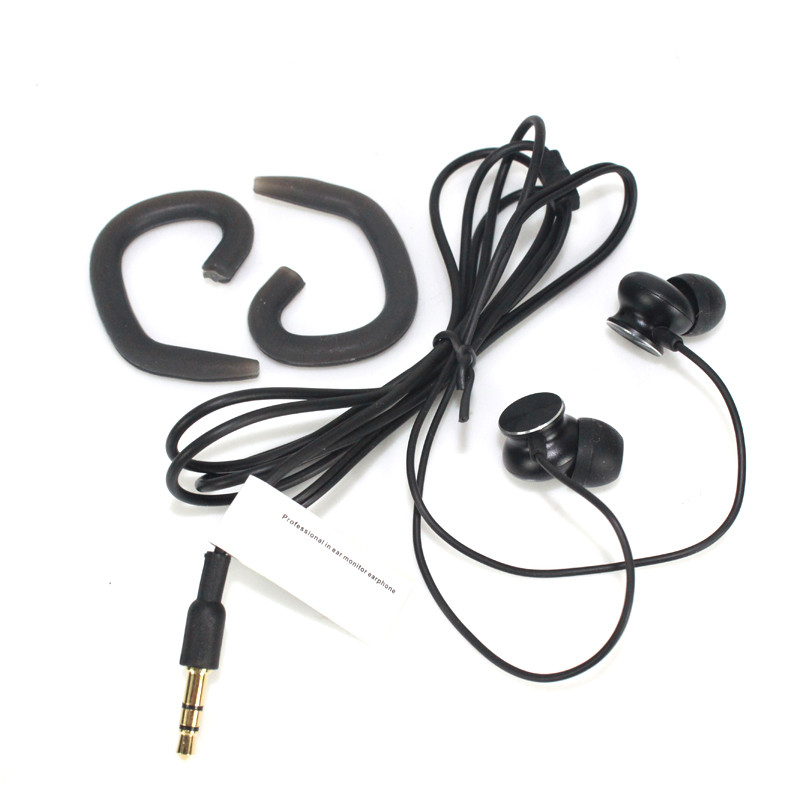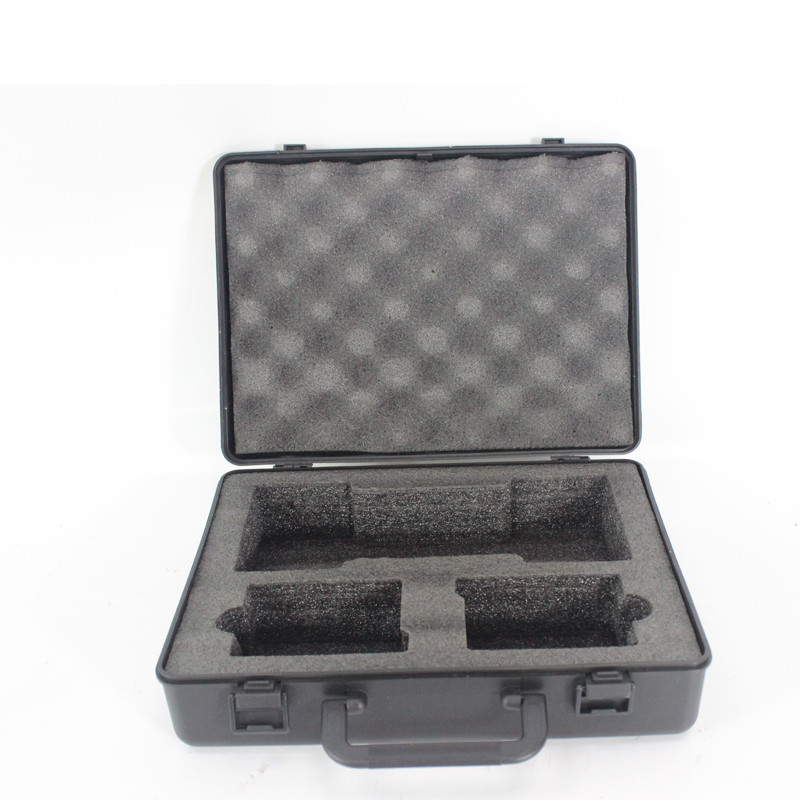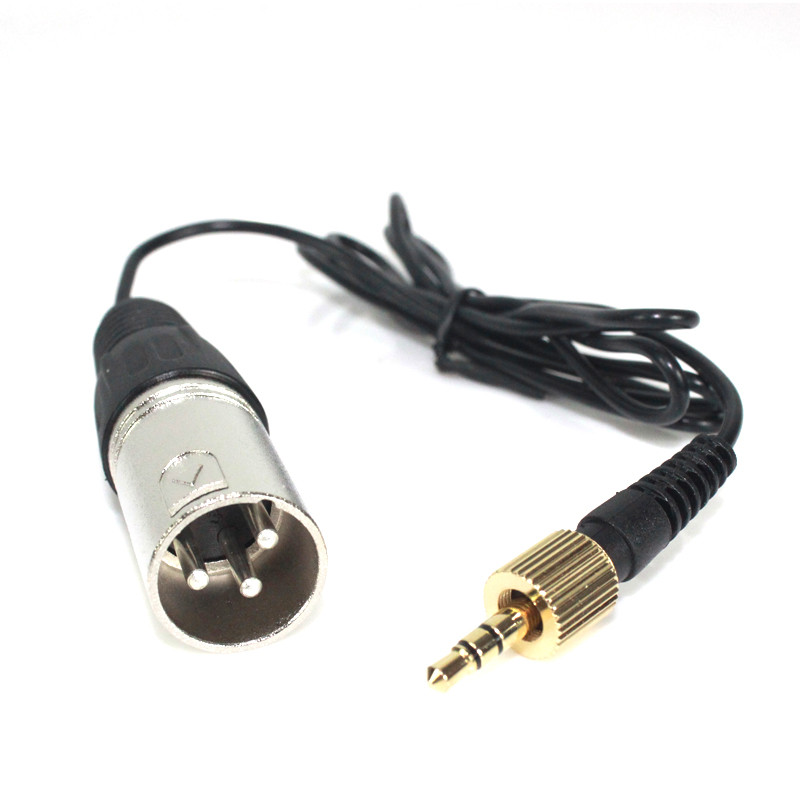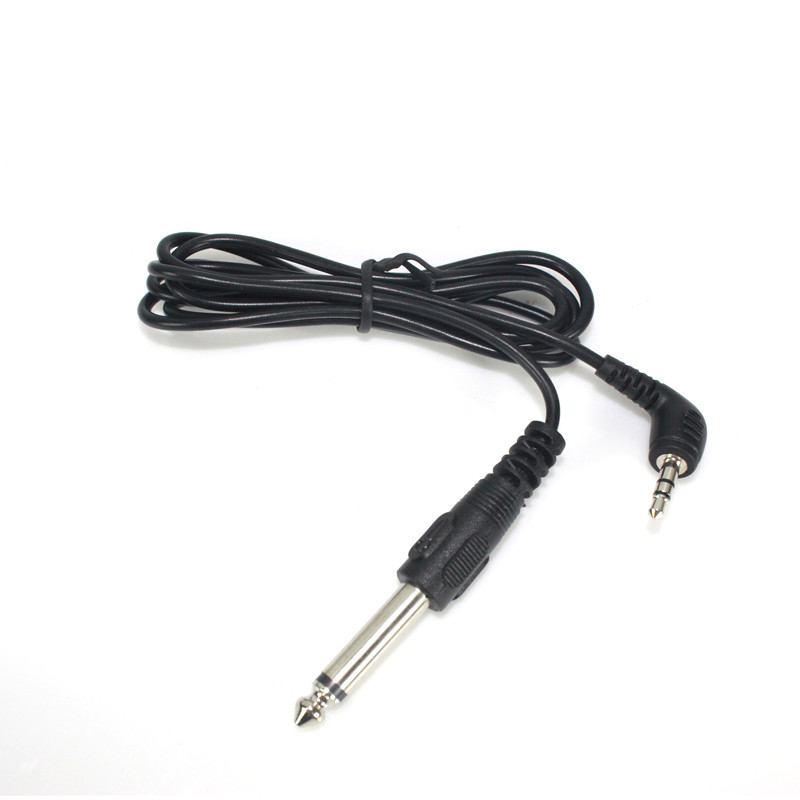 interiew microphone wireless
interview microphone for mobile,
interview microphone for dslr
interiew microphone for camera
interview microphone clip on